"...In all my research about Angel Island, I have not run across a worse case than Wong Shee's to show the horrific impact of exclusion and detention on people's lives..."
~ Judy Yung, Professor Emerita of American Studies , University of California, Santa Cruz, and co-author of the history book
Angel Island: Immigrant Gateway To America
ANGEL ISLAND PRIMER: KNIGHTS IN THE HOUSE OF JADE
Before the United States Immigration Station at Angel Island on San Francisco Bay opened in 1910, Chinese subject to the Exclusion Act of 1882 were held at the Pacific Mail Steamship Company detention shed at Pier 40, San Francisco. This video attempts to show the relationship of "The Shed" to the later Immigration Service detention barracks at Angel Island. The video concludes with the relocation of the Immigration Station from Angel Island to Silver Avenue, San Francisco in 1940, and the in-custody death of Hom Wong Shee at the Station's Silver Avenue site in 1941.
I have sourced historic references for this video from Immigration at the Golden Gate: Passenger Ships, Exclusion, and Angel Island, by Robert Eric Barde (2008), and from Island: Poetry and History of Chinese Immigrants on Angel Island 1910-1940, by Him Mark Lai, Genny Lim, and Judy Yung (1980)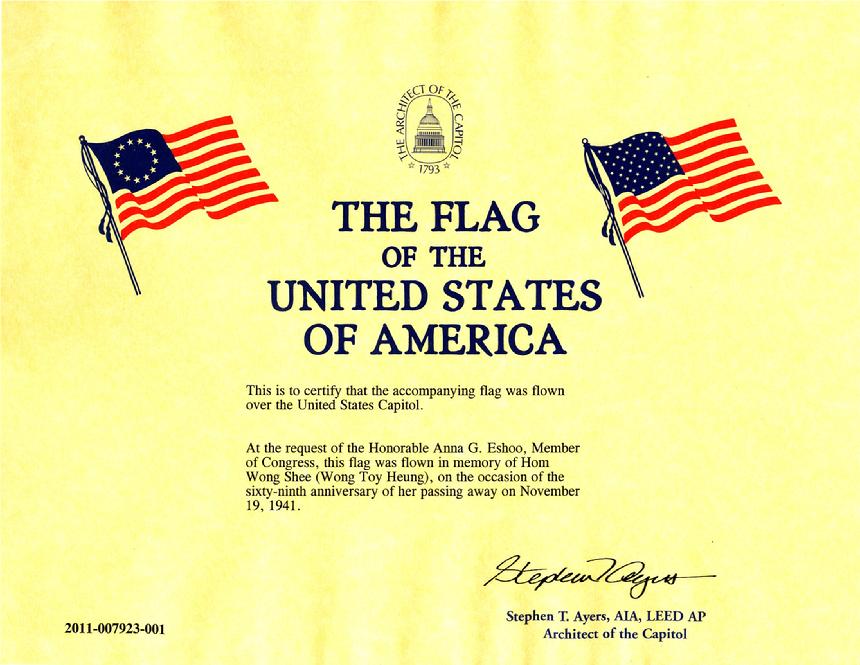 Wong Shee Remembered
SONG FOR WONG TOY HEUNG
Imagine for a moment…
It is November 18, 1941.

You are a 46-year-old woman from Guangdong Province, China.

You are being held at the United States Immigration Station at Silver Avenue in San Francisco, California, under the rules relating to the Chinese Exclusion Act of 1882 and the Immigration Act of 1924.

You have been separated from your two 8 and 9 year-old sons since your arrival in late October.

Your requests to visit your children have been ignored by the immigration station staff.

You are suffering from complications from a hearing disorder first diagnosed in Hong Kong at your departure, and your distress at not knowing of the status of your admissions' application and that of your sons is contributing to your high blood pressure.

Every time one of your fifteen sister-inmates returns from an interview with the news that they have been excluded, you become more and more convinced that the delays are just the lo-fans building their case against you and your sons for deportation—just yesterday a matron said they denied your application.

You are convinced they will soon place you and your two little boys on a steamship for Guangdong and the Japanese occupation—they deported your sister-in-law in 1927 because she got the answers wrong, and they denied your sister-inmate Mok Tue Sun because they said she was coached…

Your days and nights without emotional support at the Immigration Station are wearing you down…

You alternate between restlessness and paralysis while waiting for answers and deliverance…

In a lucid moment you ask someone to write a letter for you to your husband in New York—it is a polite letter in Chinese asking for money to pay the steamship company and to send money so you may pay your debts incurred while traveling to America.

You are so worried about having enough money for expenses that you tried without success to sell a keepsake, a gold piece that is precious to you, something you have kept for good luck -- but no one wants to buy, and you feel as though your luck has run out.

The matrons and guards do not understand Cantonese, and you do not understand English.
•It is the twenty-fifth day of your detention at 801 Silver Avenue.

The matrons notice something is wrong with you.

An interpreter is summoned to ask you if you are in need of anything.

You stare at him incredulous and in a blind rage before throwing yourself to the floor of the matron's office, scratching the ground, punching yourself in the stomach, and telling them all how everything at 801 Silver Avenue is making you crazy… how you just want it all to end… how you just want to die…

They call in the Station nurse to examine you while you lay unresponsive on the floor of the matron's office.

You have frightened the interpreter – now he is refusing to translate for you.

The station nurse arrives, takes one look at you, and tells the matron that the Chinese sometimes act this way, that it is nothing to worry about, and though you cannot understand them, you can feel through the increasing numbness surrounding your senses that their words are something dismissive, something cavalier, and that nothing you do or say to them will bring them around to what you need: your children, your husband, your status, your home, your life…
It is one-o'clock in the morning…

The echoes and the pain of your "slight hearing defect" are worse than ever, your blood pressure remains too high, and you are crying and coughing and speaking in a language that part of the room cannot hear because they are sleeping, and the other half cannot hear because they are asleep… But it is ok now… It is almost over… There is a way out… A final act of will…

You are so numb from all of this that you cannot feel a thing as you sit at your bed sharpening the ends of a broken chopstick with a penknife…

Crying all the time because you never imagined it would come to this, and crying with joy because you know your mother and father and baby sister are waiting for you on the other side of this world, and that getting there ahead of your husband and nine children will allow you to intercede for them and prepare a great welcome feast when the time comes for their arrival…

You hear the matron's footsteps approaching the women's' dormitory… You quickly climb into bed and quiet down, hiding the penknife and hoping she will not notice the wood shavings on the floor...

She goes away almost immediately without checking on you—just like always.

Her footsteps soon carry away…

Now it is time to deal with the noise coming from your ears…

The chopsticks take care of that…

Suddenly everything is quiet…

Now it is time to walk barefoot to the bathing room across the hall.

Everyone is sleeping.

Everything is still.

There is a profound silence and a sense of escape from terror and a release that you have not felt since leaving Hong Kong…

You sit on the inside edge of a bathtub, facing a wall and holding the penknife close to your neck… When you pull across with the knife it is like cutting a cord that has bound you to an inhospitable earth…

The numbness fades to a sense of flight, of memories of happier times in Guangdong and Pennsylvania: the village in Kwantung, the houses your husband built for you, the beautiful sons and daughters you made together in China and America… Somehow you know it will all be better now for you, for your husband, for the boys—they cannot send the boys back without their mother…

It is better this way…




You are free…




APRIL 24, 2009


A Request to the Congress of the United States In the matter of Wong Shee
A request for public acknowledgement of
Lack of consideration and inhumane treatment of
Wong Shee while detained by the United States
Pursuant to the Chinese Exclusion Act of 1882,
And the Immigration Act of 1924
At the U.S. Immigration Station, 801 Silver Avenue, San Francisco, California,
From October 23, 1941 to November 19, 1941
Summary:
Wong Shee (aka Wong Toy Heung) was first admitted to the United States from China's Guangdong Province in 1922 as the wife of the son of an American citizen, and issued Certificate of Identity #37939 at Seattle, Washington (1).
From 1922 to 1932 Wong Shee lived in compliance with the terms of her Certificate of Identity in Pittsburgh, Pennsylvania, where she and her husband raised seven children. Wong Shee's husband, Hom Hen Shew, was an honorably discharged U.S. Army veteran of the WWI American Expeditionary Forces. Hom Hen Shew's service record indicates his presence at the Meuse-Argonne Offensive in 1918 (2).
In 1932, Wong Shee, Hom Hen Shew, and their six American-born children departed the United States for an extended visit to their home village in China's Guangdong Province. Wong Shee's eldest son, Hom You Yee, remained in the United States. At the time of this 1932 departure, Wong Shee intended to remain in China, and did not file an application for a Laborer's Return Certificate. (3).
During the family's stay in China, the two youngest of Wong Shee's nine children were born, Hom Lee Min and Hom King Min. Some time prior to 1938, Hom Hen Shew returned to New York with the family's American-born children.
In 1938, Wong Shee moved from Guangdong with five and six-year-old Hom King Min and Hom Lee Min, and settled in Hong Kong (4). Wong Shee's move to Hong Kong coincides with the Japanese bombing of civilian targets in Guangdong (Canton) in 1938 (5).
In 1941, Wong Shee, Hom Lee Min, and Hom King Min received permission from the American Consul in Hong Kong to leave China for the United States as the wife and sons of a U.S. citizen (6).
Wong Shee, Hom Lee Min and Hom King Min arrived at the Immigration Station at 801 Silver Avenue, San Francisco on October 23, 1941 (7). Under the terms of the Chinese Exclusion Act, and the Immigration Act of 1924, Wong Shee and her sons would be held as the alleged wife and sons of Hom Hen Shew until their exempt status (from exclusion and deportation) was proven at an Immigration Service sanctioned Board of Special Inquiry.
While the San Francisco District Station researched her background history, Wong Shee was housed separately from her children. Immigration Service policy at the time kept male children of a certain age separated from their mothers, the argument being that other women detainees objected to the presence of male children of a certain age in the women's dormitory (8). Immigration Station procedure allowed detained families to visit one another if a family member made a request to Immigration Station staff. (9).
While it was known to staff at Silver Avenue that Wong Shee was distressed about being separated from her sons (10), and wanted to visit with them, no effort was made to accommodate her request. On November 8 & 9, 1941, Hom Lee Min required medical aid at the Station hospital. Wong Shee was allowed by Station Hospital staff to visit with her convalescing son in the hospital lobby (11).
From November 17 to November 19, 1941, Wong Shee appeared emotionally distressed to the staff at the Silver Avenue Station.
On November 17, the twenty-fifth day of Wong Shee's detention, San Francisco Station staff (guards, matrons, interpreters, and nurse) became aware that Wong Shee was suffering emotionally and harming herself (12). The Station nurse was summoned, and Wong Shee's condition was described by the nurse as behavior typically observed in Chinese inmates at the Station. Wong Shee received no further medical attention (13).
On November 19, between 1:00 and 1:45 AM, Wong Shee committed suicide in the women's bathing area at 801 Silver Avenue.
An internal investigation by the San Francisco Station, headed by inspector J. X. Strand, and reviewed by San Francisco Station Director Irving Wixon, established an admitted responsibility for lack of consideration and inhumane treatment in response to the emotional needs of Wong Shee (14).
The Strand investigation further revealed through staff testimony that Wong Shee was treated no differently than the hundreds of families detained at the San Francisco Station, both at Angel Island and at Silver Avenue, over a period of decades. Testimony from 38-year-veteran guard Alex Harrison at the Strand investigation suggests a pattern of disregard for the emotional wellbeing of Chinese immigrant families at the San Francisco Station, both at Angel Island and Silver Avenue, from 1910 to 1941 (15).
The facts in this case are a matter of public record, and may be freely viewed at the National Archives offices in San Bruno, California (16).
Request:
It may be argued that by the existence of this public record that our Government has publicly accepted responsibility for lack of consideration and inhumane treatment in the matter of Wong Shee. Nonetheless, and in light of this public record, and against the backdrop of the rescinded Chinese Exclusion Act of 1882, the Immigration Act of 1924, and the revised Immigration Act of 1965, I believe a more formal public acknowledgement and perhaps even a public apology from Congress in the matter of Wong Shee is both demanded and long overdue.
It is therefore by this letter I ask the Congress of the United States to respond to this request with all due respect and consideration to the memory of Wong Shee.
William Warrior
Mountain View, CA
Sources:
National Archives & Records Administration (NARA)—Pacific Alaska Region (Seattle) cases of Wong Shee & Hom You Yee 39430/1-7 & 8-3
IBID File 39430/1-7 & 8-3, 1/12/1922 investigation of Hom Hen Shew (4322/24) at Pittsburgh, PA
IBID 06/14/1932 correspondence between Immigration Stations at Pittsburgh, PA and Seattle, WA (ref case 3832/55)
NARA—San Bruno, CA (ref Immigration Case file 41369/11-29; application for immigration visa, non-quota, #113 issued at Hong Kong for Wong Shee (aka Wong Toy Heung)
http://www.historyofwar.org/articles/weapons_mitsubishi_G3M_Nell.html "…

The attention of the international community focused on the bombing of Canton on 28 May 1938, when 600 civilians were killed by bombs dropped from G3Ms. A regular bombing campaign followed, and in June 1938 both Britain and the United States condemned the bombing of Chinese civilians…"

IBID #4 NARA, San Bruno, CA
IBID 41369/11-29 & 11-30 & 12-1 10/23/1941 Action Sheet: arrival of Wong Shee, Hom Lee Min, and Hom King Min at San Francisco, from SS President Coolidge
IBID 42369/11-29, letter from Irving Wixon, SF Immigration District Director to John McNab, attorney for Chinese Six Companies, San Francisco, 12/9/1941
IBID 42369/11-29, correspondence between SF Immigration District Director Wixon to Lemuel B. Schofield, Special Assistant to the Attorney General, 12/9 & 12/19/1941
IBID 42369/11-29, page 15 of J.X. Strand internal investigation of the suicide of Wong Shee at 801 Silver Avenue, San Francisco
IBID 42369/11-29 Strand investigation page 16
IBID 42369/11-29 Strand investigation, page 13
IBID
IBID 42369/11-29 letter from Wixon to Schofield, December 9, 1941, and December 8, 1941 letter from Wixon to SF District Station inspectors in charge, Detention Division; Chinese Division
IBID 42369/11-29 Strand investigation, pp 14-16, statement of SF District Station Head Guard Alex Harrison, who served from 1903 through 1941 at Angel Island and Silver Avenue: "…This family was handled the same as hundreds of others…

the procedure in this case was no different than that of any others…"
IBID 42369/11-29; 11-30; 12-1
--------------------------
To Whom It May Concern:


November 19, 2009 marks the 68th anniversary of the in-custody death
of Wong Shee (Wong Toy Heung) at the United States Immigration Station
at San Francisco, California.


From that day in 1941 to the present, the United States has privately
admitted negligence and inhumane treatment of Wong Shee, but has never
publicly acknowledged or apologized for this atrocity -- the direct
result of the U.S. Congress adoption of the Chinese Exclusion Act of
1882.


On October 20, 2009, Senator Dianne Feinstein made the following
statement in the matter of Wong Shee:


"I appreciate hearing your support for a Congressional resolution in
recognition of Ms. Shee. While no such legislation has been
introduced in the 111th Congress, I will certainly be mindful of
(this) point of view should the Senate take up consideration of this
matter in the future..." ~ U.S. Senator Dianne Feinstein, CA


For sixty-eight years Wong Shee has waited for an apology from the
United States.


For 127 years, tens of thousands of people subject to the unjust laws
of the Chinese Exclusion Act have waited for an apology from the
United States.


For the sake of memory, and in tribute to those whose lives were
disgraced and destroyed because of The Chinese Exclusion Act, the time
has come to apologize.


Is the U.S. Congress listening?


Is anybody listening?

President Obama & Wong Shee
Wong Shee & The White House
Reps. Chu, Biggert & Coffman, Senators Feinstein & Brown Announce Resolution of Regret for Chinese Exclusion Laws
HRES 683 EH
H. Res. 683
In the House of Representatives, U. S.,
June 18, 2012.
Whereas many Chinese came to the United States in the 19th and 20th centuries, as did people from other countries, in search of the opportunity to create a better life;
Whereas the United States ratified the Burlingame Treaty on October 19, 1868, which permitted the free movement of the Chinese people to, from, and within the United States and made China a 'most favored nation';
Whereas in 1878, the House of Representatives passed a resolution requesting that President Rutherford B. Hayes renegotiate the Burlingame Treaty so Congress could limit Chinese immigration to the United States;
Whereas, on February 22, 1879, the House of Representatives passed the Fifteen Passenger Bill, which only permitted 15 Chinese passengers on any ship coming to the United States;
Whereas, on March 1, 1879, President Hayes vetoed the Fifteen Passenger Bill as being incompatible with the Burlingame Treaty;
Whereas, on May 9, 1881, the United States ratified the Angell Treaty, which allowed the United States to suspend, but not prohibit, immigration of Chinese laborers, declared that 'Chinese laborers who are now in the United States shall be allowed to go and come of their own free will,' and reaffirmed that Chinese persons possessed 'all the rights, privileges, immunities, and exemptions which are accorded to the citizens and subjects of the most favored nation';
Whereas the House of Representatives passed legislation that adversely affected Chinese persons in the United States and limited their civil rights, including--
(1) on March 23, 1882, the first Chinese Exclusion bill, which excluded for 20 years skilled and unskilled Chinese laborers and expressly denied Chinese persons alone the right to be naturalized as American citizens, and which was opposed by President Chester A. Arthur as incompatible with the terms and spirit of the Angell Treaty;
(2) on April 17, 1882, intending to address President Arthur's concerns, the House passed a new Chinese Exclusion bill, which prohibited Chinese workers from entering the United States for 10 years instead of 20, required certain Chinese laborers already legally present in the United States who later wished to reenter the United States to obtain 'certificates of return,' and prohibited courts from naturalizing Chinese individuals;
(3) on May 3, 1884, an expansion of the Chinese Exclusion Act, which applied it to all persons of Chinese descent, 'whether subjects of China or any other foreign power';
(4) on September 3, 1888, the Scott Act, which prohibited legal Chinese laborers from reentering the United States and cancelled all previously issued 'certificates of return,' and which was later determined by the Supreme Court to have abrogated the Angell Treaty; and
(5) on April 4, 1892, the Geary Act, which reauthorized the Chinese Exclusion Act for another ten years, denied Chinese immigrants the right to be released on bail upon application for a writ of habeas corpus, and contrary to customary legal standards regarding the presumption of innocence, authorized the deportation of Chinese persons who could not produce a certificate of residence unless they could establish residence through the testimony of 'at least one credible white witness';
Whereas in the 1894 Gresham-Yang Treaty, the Chinese government consented to a prohibition of Chinese immigration and the enforcement of the Geary Act in exchange for readmission to the United States of Chinese persons who were United States residents;
Whereas in 1898, the United States annexed Hawaii, took control of the Philippines, and excluded only the residents of Chinese ancestry of these territories from entering the United States mainland;
Whereas, on April 29, 1902, as the Geary Act was expiring, Congress indefinitely extended all laws regulating and restricting Chinese immigration and residence, to the extent consistent with Treaty commitments;
Whereas in 1904, after the Chinese government withdrew from the Gresham-Yang Treaty, Congress permanently extended, 'without modification, limitation, or condition,' the prohibition on Chinese naturalization and immigration;
Whereas these Federal statutes enshrined in law the exclusion of the Chinese from the democratic process and the promise of American freedom;
Whereas in an attempt to undermine the American-Chinese alliance during World War II, enemy forces used the Chinese exclusion legislation passed in Congress as evidence of anti-Chinese attitudes in the United States;
Whereas in 1943, in furtherance of American war objectives, at the urging of President Franklin D. Roosevelt, Congress repealed previously enacted legislation and permitted Chinese persons to become United States citizens;
Whereas Chinese-Americans continue to play a significant role in the success of the United States; and
Whereas the United States was founded on the principle that all persons are created equal: Now, therefore, be it
Resolved,
SECTION 1. ACKNOWLEDGEMENT.
That the House of Representatives regrets the passage of legislation that adversely affected people of Chinese origin in the United States because of their ethnicity.
SEC. 2. DISCLAIMER.
Nothing in this resolution may be construed or relied on to authorize or support any claim, including but not limited to constitutionally based claims, claims for monetary compensation or claims for equitable relief against the United States or any other party, or serve as a settlement of any claim against the United States.
Website powered by Network Solutions®